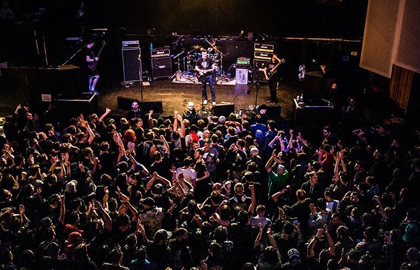 Propagandhi absolutely ripped it up at the Rickshaw last Friday (Feb5). My good friend Dan Rossnagel (aka
Daniel Wesley
) and I were primed for a good one. After a couple of crisp Coors Lights (my choice not his) at my place, we headed to the Downtown Eastside. Our nostalgic teenage-punk-rock memory-fueled excitement was curtailed, only briefly when we had to wait a half hour to get into the venue! WTF!? The lineup was for ticket holders. Harsh. Anyway, all good.
We were a bit bummed to miss our buddy Cam Strudwick who had opened with his band
Burning Ghats .
That must've been amazing to open for the greatest Canadian punk rock band of all-time. Needless to say, we were beyond
STOKED!
Once we finally got inside, the night really took off. We hustled and muscled through the crowd and down to the beer line on the floor stage left and things were shaping up nicely. Dan and I used to play in a high school band called
General Mayhem,
and before that, we played in a punk rock cover band in our drummer Daryl's garage in Langley. We used to play covers of Pennywise, Lagwagon, The Vandals, NOFX (all of that good California shit)...never any Propagandhi (that I can remember -- probably too advanced technically!), but of course at the show, lo and behold, we run into our old guitarist Joey Placek. Wicked high school punk band reunion. Mega laughs and high fives had by all.
The Rickshaw was absolutely buzzing with energy. The only other times I can remember an energy like that was seeing Japandroids in Toronto at The Phoenix and Refused on their comeback tour at The Vogue.

Propagandhi was relentless and incredibly impressive musically. I forgot how technical they are. New guitarist, Sulynn Hago was outstanding and passionate. Chris Hannah's speed and accuracy was mind-blowing. Bassist Todd Kowalski rocked amazing style going with cloth cargo shorts, runners, a shirt that read "Let's Hug It Out". He looked like a dad (on copious caffeine) who was ready to mow the lawn on a Sunday afternoon. Let's just say, too, that Kowalski leads the league in fist pumps. Drummer Jord Samolesky was devastating and locked in on tempos, laying the bed for the guitar shreddage. 

The show could've easily been awesome fueled by nostalgia alone, but it was so, so much more. So happy to have been there and experience the Canadian punk rock legends.

(Photo Credit: Timbre Concerts)