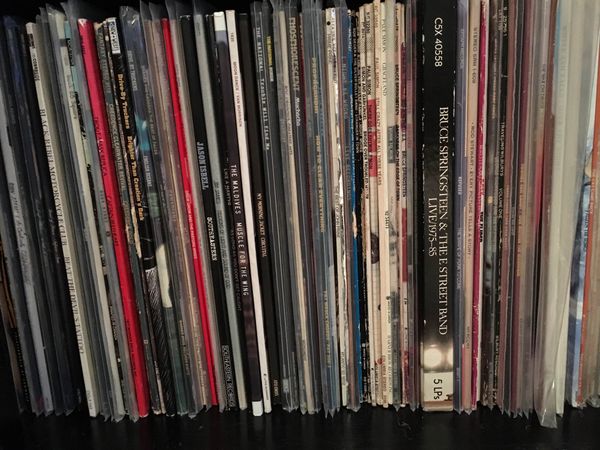 About a year ago my record player was struggling and needed to be fixed. I was told I could "probably fix it myself" and obviously that was an inane statement because I can't fix anything myself. I can barely string my guitars (that's only slightly hyperbolic - it takes a long, long time. ha). 
So the record player sat there and then in January we moved. Finally, I got it fixed and set it up this week, and man am I ever relieved and pumped. Earlier tonight I had the misfortune and embarrassment of having to admit to my guests that my record collection was not in alphabetical order. Sooooo, after they left and I bathed Maliyah, read to her and put her to bed, I got down to it. Ahhh, the cathartic OCD massage that is record organizing. 
I have a philosophy when it comes to vinyl records: Because of their cost and size, I only purchase records that I REALLY like. So I wouldn't call myself a collector at all. I only own albums that, to me, are the grade A shit. Obviously there are big holes in my collection, and I will continue to build it through my lifetime, (and I need a bunch of new stuff!) but here's what it's lookin' like as of right now:
AC/DC - Highway to Hell (dick rock can be good)
At the Drive-In - Relationship of Command (for trashing the house or cleaning it (after trashing it?))
Bryan Adams - Cuts Like A Knife (he's a butt head about CANCON, but an undeniable legend)
Ryan Adams - Heartbreaker (in my top 10 of all-time, but the opening track proves what a dick he is and I hate that it's a double)
Ryan Adams - Demolition (he has the worst, most arrogant stage banter in the business, and also some of the best songs)
Ryan Adams - Cardinology (that Taylor Swift thing he did made me hate him so much. but often, hate is borne from love)
Band of Horses - Infinite Arms (majestic grandeur)
Band of Horses - Mirage Rock (can't wait to see them at the Orpheum next month!)
The Beach Boys - Endless Summer (the standard for pop rock)
Black Rebel Motorcycle Club - Beat The Devil's Tattoo (weird that I have this one and not the others, which I love, but I bought it at a show at the Showbox in Seattle and it hand't come out yet, so I spazzed and yelled that I would pay $35 for it and the merch girl relented. ha.)
Black Rebel Motorcycle Club - Live (I am not a great fan of live albums, but I love BRMC enough to own this)
Bonnie "Prince" Billy - I See A Darkness (present from my boy MDK. Another strange genius man whose talent is undeniable.)
Bonnie "Prince" Billy - Beware (Ive always loved the opening line of the record "I want to be your only friend. Is that scary?" He is so good. Insane and good.)
Buck 65 - Square (I had a huge man crush on Bucky from about 2002 - 2007. Saw a bunch of shows and met him a number of times. Even did an interview. He has shown himself to be not such a great guy in recent years, so this record has nostalgic value but doesn't end up on the turntable much.)
JJ Cale - Naturally (Likely my favourite album of all time. Saj and I danced to 'Magnolia' for the first dance at our wedding. Legendary song writer, perfect subtlety and tenderness.)
JJ Cale - Grasshopper (Doesn't have the magic of Naturally for me, but still, a bunch of very cool shit on here.)
JJ Cale - Troubadour (Love him. RIP.)
 to be continued....