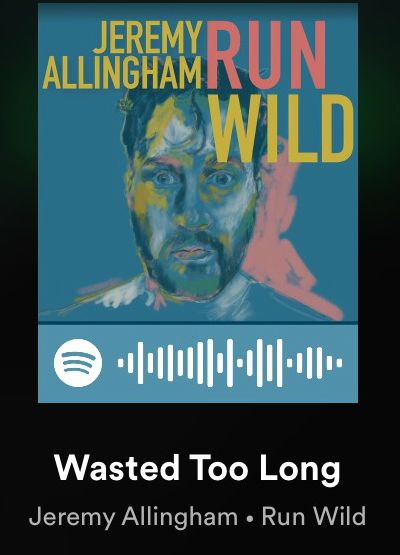 I want to tell you guys a bit more about these songs. Where they come from and what they mean. 
Wasted Too Long is one of my favourites from RUN WILD. I've always loved songs that drip with nostalgia and that's what I aimed to do with this one. Right off the top: 
"Back then we lost our memories in those liquor stores and on our lyric sheets...we gotta hold on before we're wasted too long." 
That takes me back to playing in my high school band General Mayhem with Daniel and Daryl. We had an endless thirst for music, for friendship, for beer, for intensity and fun. And though I put a lot of work into those lyric sheets at the tender age of 16 or so, I don't know how comfortable I'd be reading them now. Maybe after a couple of those beers from the liquor store! 
And the chorus has that anthemic quality I always strive for with rock n roll songs. I tried to capture the universal feeling of fighting for something and, whether or not you win that fight, knowing that change is gonna come either way. 
"You know the times have changed, they never stay the same, but did it have to be so tough? You know we gave our best and never took a rest, but the best just wasn't enough." 
After working really hard for something, do you ever stop and ask your self "did that really have to be that tough??". I sure as shit do. 
In the second verse, I try to tame the part of me that's constantly looking back on my former self in judgement. Did I do enough? Did I work hard enough? Was I kind enough? 
"Not me, I wouldn't take it back, I wouldn't change a moment, not a single breath. I got no pain, no doubt, no regret." 
For this song, I tried to say 'no regrets" as a statement of purpose, whether or not that's actually always true. 
And then there's the "whoa" section, which is just fun and catchy as hell. We had one helluva choir into sing that puppy! Corey, Melissa, Katie, Adam, Michael, Kyle and Kat. 
Wasted was written back around 2010 or so, but when I first composed and performed it, it had a distinctly 50's rock feel. Heading into the RUN WILD sessions, and particularly in writing sessions with DANIEL WESLEY and Alexander, we decided it was much better to tighten it up into a more straight-ahead rocker with the palm-muted guitar in the verses, the closed down, four-on-the-floor drums and the big vocals in the chorus. 
And of course, how else to put a song over the top in my books than to have my (tied for) favourite bud Maliyah singing her own rendition of it at the end of the track and on the secret track at the end of the album! I picked her up, held her close to the mic and she just belted that puppy out. One take. A lot more efficient than her old man, that's for sure. Also, this song became a family favourite of ours because singing it was the only way we could get little Tariq to stop screaming in the car on our family vacation last summer! Basically, it's ingrained in our psyche forever. hahaha. 
Listen to this song! Add it to your playlist for the May long weekend! Enjoy! All of my love to you and yours.