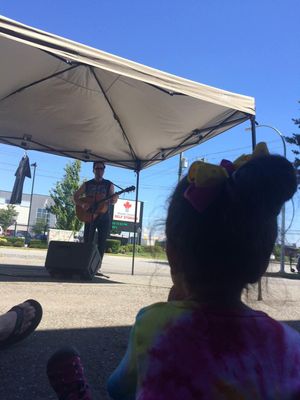 Had the good pleasure of playing an intimate, solo acoustic show out at
Old Abbey Ales
 in a showcase of
Fraser Valley Music Award
 nominees a couple of weekends back. It was a beautiful day at a great little brewery and a bunch of kind folks were out to support. But most importantly for me, was getting to play for my little buddy, Maliyah. My girl came out in a tie-dye shirt, got into the free popcorn, made a couple of friends and danced her ass off. 
She and I play guitar and sing and dance around the house all the time, but getting to see her see me performing live was a thrill. She saw me play once before live on CBC Radio when she was about 8-months-old, but obviously that doesn't really count.
When the show started, she began by sitting quietly, but then as the performance went on and she recognized the songs more and more, the dance party began. At one point she came roasting out of the venue with a massively excited smile on her face and she turned and seemed to be headed straight for the parking lot (I was playing outside facing into the venue through a large garage door). I nearly panicked and dropped the guitar, but then my mom (grandma!) grabbed her and everything was fine. Somehow the song that I was playing was still on the rails and seemed to have been progressing nicely. Auto pilot!! Ha!
Also, playing Factories & Alleyways' '1000 Beers' at brewery was highly satisfying. Stay tuned for July 16th to find out if I take home a Fraser Valley Music Award for best Roots/Folk artist. 
Old Abbey Ales acoustic set list:
Teenage Autumn Nights
Atlantic City
(Springsteen cover)
1000 Beers
Long Shadows (as yet unrecorded)
The Boxer
(Simon & Garfunkel cover)
Find Love